Make Employee Anniversaries More Memorable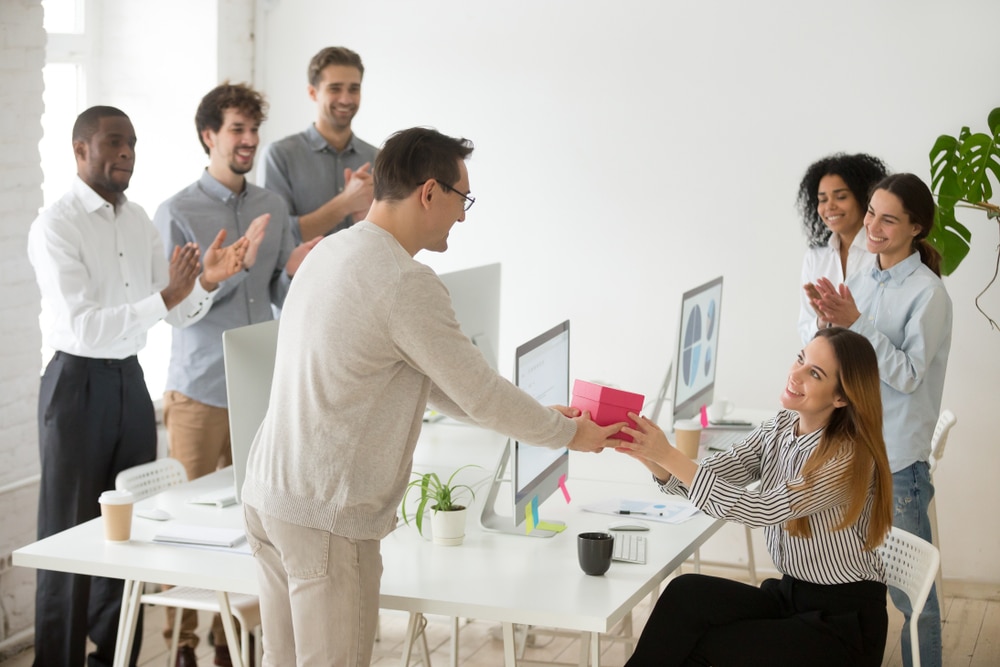 Let's be honest: it sucks when it's your birthday but no one greets you or even remembers. How about when you've been working for the same company for three years (or longer) and no one recognizes it? Extremely disappointing, isn't it?
In today's fast-paced world, it's easy to forget special occasions, including your employees' workplace milestones and anniversaries. But employees who know they're being recognized for their loyalty and hard work are typically happier and more satisfied with their jobs. Thus, they prove even more beneficial to your operations than you may initially think.
Why make time to celebrate employee anniversaries?
Long gone are the days when employees work for one company their entire life. For one thing, layoffs are common, especially during recessions. In addition to that, employees will usually get a significant pay increase if they jump to a new job instead of waiting for a pay raise.
Today, individuals change jobs an average of 12 times during their career. As a result, the median employee tenure is 4.3 years for men and 4 years for women, according to the Bureau of Labor Statistics. Because of this, employee anniversaries are even more significant – or at least, they should be. While finding an employee who stays at one job for five years or more can't exactly be compared to a unicorn sighting, it is definitely a noteworthy thing.
Employee recognition is one of the best ways to fulfill your workers' fundamental human need for appreciation. According to research by Gallup, employees who receive recognition for their work accomplishments have a stronger sense of engagement with their tasks.
So, what could you do to show an employee how you appreciate the help they've brought to the team over the past year? How do you make their anniversary memorable? We have some answers for you.
The Manager's Guide to a Memorable Employee Anniversary Celebration
Create a work desk explosion
No, it's not about setting off fireworks or confetti poppers at your employee's desk on their anniversary. Work desk explosion is the act of decorating an employee's workstation with thank you cards, balloons, and other tokens of appreciation on their special day.
For this to work, you can ask your team to write notes on pieces of Post-its or card stock. They can put well-wishes, appreciation notes, or a simple congratulatory message. Your team can also fork over a few dollars for a special gift that will be useful or meaningful to the anniversary celebrant.
When that employee arrives in the morning to a work desk explosion, it'll surely bring a smile to their face.
Highlight their achievements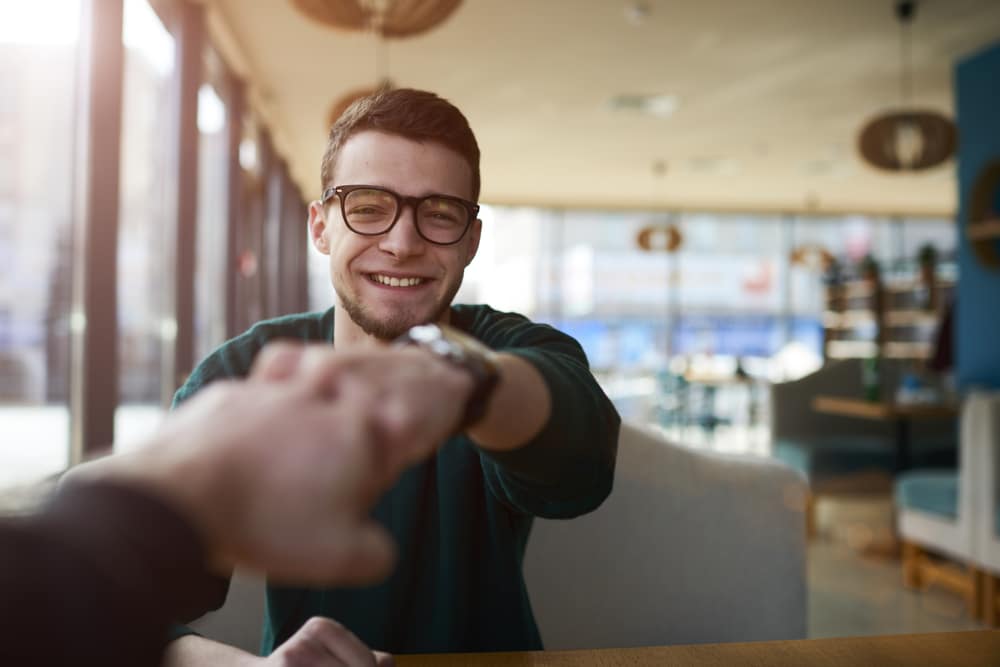 What's an anniversary celebration if you don't recognize the work your employee has been doing throughout the past year? If an employee has stayed for another year, it must mean that they've been continuously doing something good and this should be recognized.
A great way to go about it is to be specific. Simply saying, "Jessica has grown a lot since he started a year ago" isn't enough even if that's true. So, don't believe all those lists of "Great Employee Anniversary Messages" you find across the web because they sound impersonal and insincere.
If your employee has significantly improved, be specific and highlight the areas of their growth and why that was important. This gives an employee a chance to see that you've noticed their progression within the company.
Give them promotional opportunities
Many employees work hard to earn their way to the top. If your anniversary celebrant is vying for a higher position or even just for a raise, work anniversaries provide a great setting to present them with the opportunity to move up. Of course, you shouldn't just promote them or give them a raise because it is their anniversary; it should be well-deserved.
Presenting an employee with this opportunity can also serve as their anniversary gift, a token of appreciation not just for staying another year, but also for doing a great job throughout that time.
What's more, presenting an employee with the chance to move up the ladder because of their great performance can motivate other employees witnessing the event. They'll see that through hard work, they have an equal chance to prove their worth and move up to a higher spot, too.
Of course, if an employee has been going above and beyond what's expected even before their anniversary, you should reward them accordingly. Properly incentivizing employees makes for a great employee retention program.
Celebrate with the team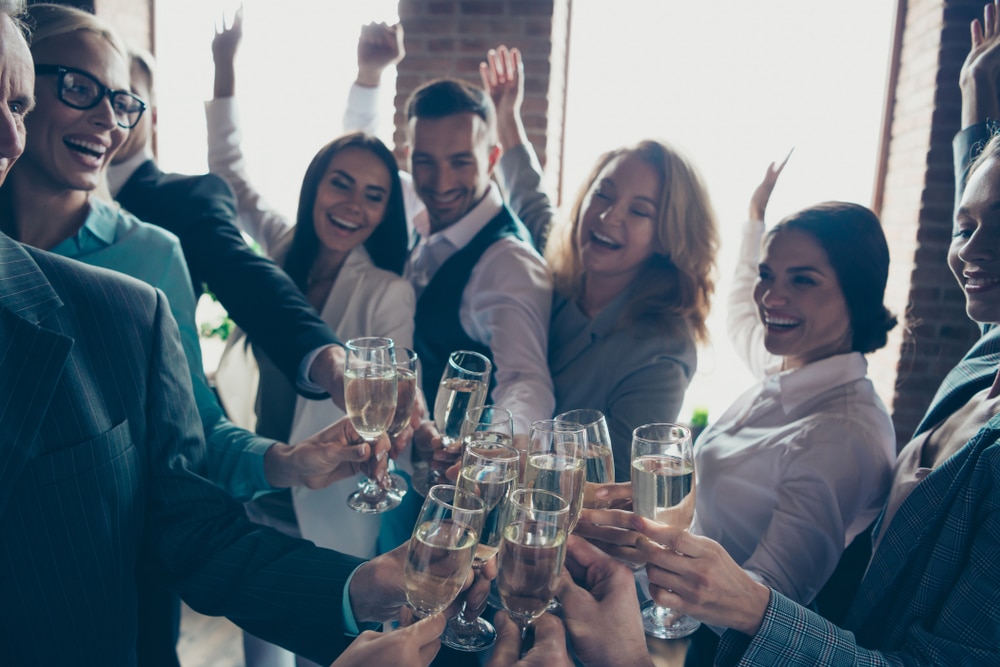 To truly show your appreciation for an employee, why not gather their closest colleagues with whom they've worked and those who have helped them in the past year? Opening the celebration to the entire team encourages participation and may even foster stronger work relationships.
What's more, when the entire team is in on the celebration planning, the handing out of praise and recognition appears more genuine. The team decides how to approach the celebration instead of it being a generic recognition.
If you intend to celebrate at work, it's great to plan for an entire room or department, especially if the budget allows. A low-key celebration with food and drinks is more than enough.
Grant them additional paid time off or a company-sponsored trip
Parties and celebrating with office friends are nice ways of congratulating your employee on another year with the company but paid time off or a sponsored trip takes the anniversary incentive to the next level. It's especially important to grant incentive trips for employees who have been with the company for at least three years.
Time off from work benefits both you and the employee. By taking the time off, they can unwind and relax after a year of continuous hard work. Then, they'll come back more refreshed, energized, and motivated. As a result, they'll perform better and you'll end up having an even more productive employee.
Like awarding promotions, granting an employee paid leaves or sponsored vacations can make others become more productive, too. They'll see that working hard has tangible benefits that they can actually get to enjoy. Through incentives like this, the employee turnover rate can be reduced.
Give Your Employees the Recognition They Deserve
Work anniversaries are one of the most common ways to recognize employees. In spite of this, they're often poorly or inadequately executed. Your employees deserve something better than a generic celebration.
When you partner with MTI Events, Kansas City's leading corporate event planning company, you'll be the organization people will want to work in. With over 30 years of corporate event planning experience, we have the expertise to help businesses make the most out of their incentive programs and special events.
Call MTI Events at 913-521-8680 today to learn what we can do for you.