Make an Impact at Your Next Company Meeting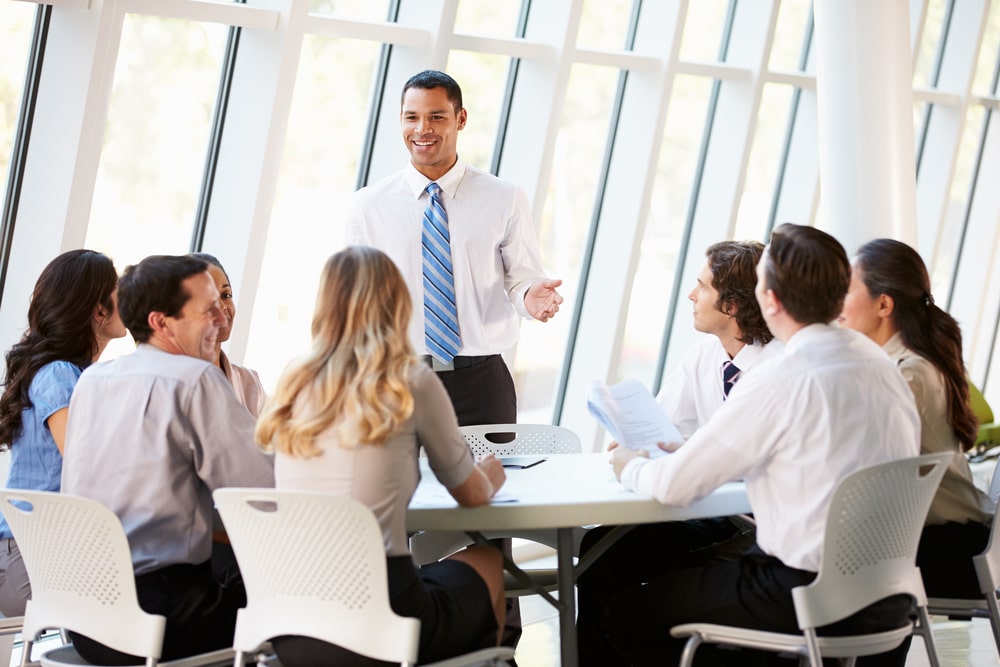 You are in charge of conducting a pretty big meeting in a couple months. You may start to sweat a little because you don't want to this to be the same mediocre meeting that you have had employees sit through time and time again. If you want to have a reputation for effective, memorable company meetings, here are four valuable changes you can make.
Improve Your Speaking Skills
Everyone agrees: boring meetings are pretty ineffective. Shake things up by learning new speaking techniques from a speech class, join your local Toast Masters, or if you really want to think outside the box, try an improv comedy class. These options can teach you how to write a great speech, improvise on the fly, and connect your meeting topic with something a little more personal. People remember information better when it's presented in an anecdotal form, so adding in a few personal stories here and there will let your employees know more about who you are while giving them the information they need.
Mix it up with a Motivational Speaker
No matter how effective you are as a speaker, there's always value in hearing from others. Motivational speakers are great for pumping up employees. This can be especially valuable when starting a difficult project or facing a challenging goal set by higher-ups. An alternative type of motivational speaker that can be brought in is a satisfied client that can talk to your team about why they chose to work with your company and what about your team stands out from competitors. Either way, you'll be providing a valuable change of perspective and ignite some motivation.
Change Your Setting
Sometimes all it takes to get people interested in a topic is a little bit of scenery. Go to a nice restaurant for a lunch meeting (check to make sure the restaurant has a private room you can rent with necessary outlets for laptops, a monitor, or whatever else you'll need to run the meeting). Make sure to book the private room a month or two in advance and note any dietary restrictions your employees might have.
If your team could benefit from a little fresh air and sunlight, take them to a park for a paper bag lunch meeting in a gazebo (remember that catering services and sandwich delivery shops are great for paper bag lunch meetings). This could be just what your employees need to feel revitalized and ready to work.
If you are a larger company, renting out an event space might be the way to go. With a little research, you can find a fun space that will accommodate all of your employees. A lot of these spaces also offer catering for events; this could potentially take part of the guesswork out of your meeting planning. Remember to book these spaces three to six months in advance, the good ones go fast.
Reward Outstanding Employee Performance
Acknowledging outstanding employee performance is never a bad idea. Make it a point to call out a couple of people from your workforce who recently went above and beyond. This will show that you appreciate your employee's efforts and will potentially foster some motivation company-wide. Make sure you don't fall into a pattern of rewarding the same person over and over. This will backfire and actually make other employees feel unappreciated, and their productivity will dwindle.
These four valuable changes will take ordinary meetings from cramped conference tables surrounded by bored workers to memorable meetings that provide value and leave a positive impact on company-wide morale. Try them one at a time, or all together and watch your reputation for hosting memorable meetings be the talk of the office.
MTI Events has been recognized as one of Kansas City's best small businesses. We specialize in travel incentive programs, meeting planning, special events, trade shows, merchandise incentive programs, team building and more.