Planning Group Vacations for Couples and Friends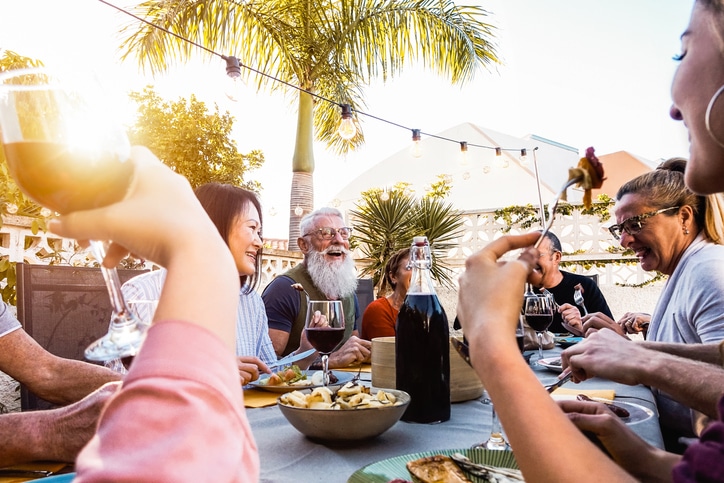 Group vacations for couples like you and your friends are extremely fun and a great way to get away from all of the stress of daily life. Whether your crew enjoys hiking through the jungle, lounging on a beach surrounded by turquoise water, enjoying spa treatments in the desert or exploring historic castles we can help you find a world class location.
Find Your Perfect Group Getaway
Often, larger groups of friends have trouble agreeing on a destination when planning a vacation. Some want to go horseback riding and enjoy beautiful landscapes while others want to be pampered at an all inclusive resort. Finding the right destination that meets everyone's expectations doesn't have to be difficult with the help of MTI Events.
With our help, you won't have to spend hours researching locations and activities – our team has that covered. All you need to do is tell us what your group is interested in and we will choose a fantastic location for your vacation based on our 30 years of experience in the industry.
Whether you are envisioning your crew dancing the flamenco in Spain, zip lining through Costa Rica, tasting delicious cuisine in Vietnam, or getting an adrenaline rush from water sports in the Bahamas, we are here to help make it happen.
Vacation Planning for Large Groups
Choosing the perfect location for your group is fun and exciting but you also will need to think about the logistics. How will everyone get there? Where will everyone stay? What restaurants can accommodate large groups in the area?
The logistics of planning a large group retreat are where things can get a bit challenging. If you try to go it alone, you may find yourself on the phone for hours discussing things like accommodations and transportation.
Even after you think everything is in place, you may get to your destination to find that there are not enough hotel rooms or the shuttle you booked from the airport to the resort isn't showing up. These are issues many run into when going on a group trip but they can be avoided if you work with a team that knows the ins and outs of group travel.
In addition to finding the perfect vacation destination for you and your crew, MTI Events is well-versed in coordinating trips for larger groups and we have a slew of contacts that we can tap into if something isn't quite right once you reach your destination.
Group Vacation Planning Services with MTI
Arranging transportation to/from airports, and hotels.
Securing room accommodations for groups of 10 or more.
Booking airline tickets and coordinating transfers.
Recommendations for fun activities, events and dining options for your group.
At MTI, we are experts in large group travel and can provide you with vacation destination options that are perfect for you and the other couples on your trip and help iron out the logistics. Get in touch with us today to discuss your group vacation
Note: MTI Events specializes in working with groups of 10 people or more. Escorted trips are available for groups of 20+.