3 Must-See Places in Aruba for Your Next Corporate Trip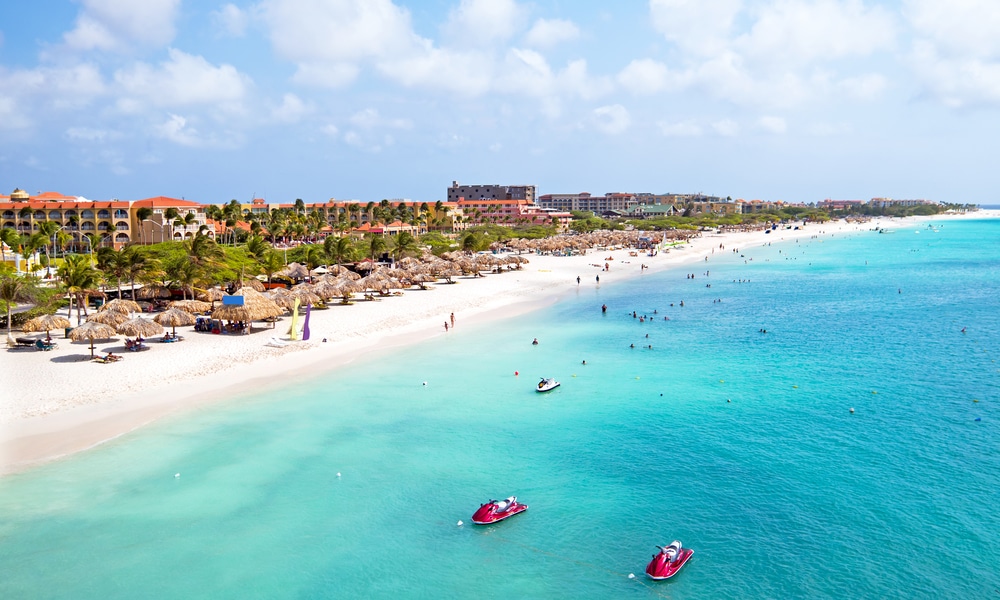 Taking your team away for a corporate event is a great opportunity to get away from the same old scenery that you see every day. Not only that, but it gives your employees a chance to visit places they might not go to otherwise and immerse themselves in a whole new culture. Aruba, a small Caribbean island just a few miles off the coast of Venezuela, is a popular corporate trip location that will do just that…and so much more.
With its beautiful beaches, warm climate year-round and large meeting facilities in luxury hotels, this stunning island draws thousands of visitors every year. There is so much to see and do in Aruba. If you're taking your employees on a corporate trip to this island paradise, here are three must-see places you won't want to miss.
#1. Pinchos Grill and Bar
Located right on the pier of Surfside Marina, Pinchos Grill and Bar offers a unique dining experience. All tables are set-up over the water, giving you and your employees a view of the ocean and the sky. Take your employees out for a delicious meal while you watch the sunset or take in an unobstructed view of the stars. Every weekend there is live music to accompany your meal, adding to the awesomeness of the experience.
Pinchos offers a wide selection of delectable foods, and they can cater to the needs of a large group. You can start the meal with a refreshing pickled cucumber and grape salad or shrimp ceviche. Main courses include Boursin and apple-stuffed pork tenderloin, an eight-ounce filet mignon with a truffle butter sauce, grilled salmon with an orange and miso glaze and twin lobster tails. Your employees will certainly feel appreciated as they enjoy their al fresco dining experience!
#2. The Natural Pool
Also known as the "conchi" or the "Cura di Tortuga," Aruba's Natural Pool is a secluded area of water that is separate from the beaches and only accessible by foot, on horseback or by an ATV. Large rock formations separate this peaceful haven from the ocean, but you can still hear the waves on the other side. Beaches are always available, but taking a trip to the Natural Pool gives your employees the feeling like they've made a unique discovery. You can rent snorkeling equipment, and your employees can get a closer look at the marine life. High points of the cliffs that surround the pool offer your employees the chance to throw caution to the wind and take a leap into the water. No matter what you choose to do at the pool or how you get there, your employees aren't likely to forget this experience anytime soon!
#3. Arikok National Park
Give your employees an up-close and personal look at the natural beauty of Aruba. Arikok National Park, which covers almost 20% of the whole island, is full of dirt trails on which you and your employees can view unique plants and animals that can only be found on the island, such as the whiptail lizard and the burrowing owl. The hiking trails will lead you to all kinds of interesting sites – Miralamar (a gold mine), a coconut tree plantation, and a beach. You can also get a glimpse of history through cave drawings and a European settlement. Arikok provides your employees with an experience they won't be able to get anywhere else.
A corporate adventure trip for your employees should be thrilling, memorable, and one-of-a-kind. We here at MTI Events cannot recommend the island of Aruba highly enough! There are so many exciting adventures to be had in this island paradise that you just may have to come back for a second time. We can help you plan the perfect corporate trip to this amazing island that your employees will be talking about for a long time to come. Contact us today to learn more.