Adventure Travel: Bungee Jump at Victoria Falls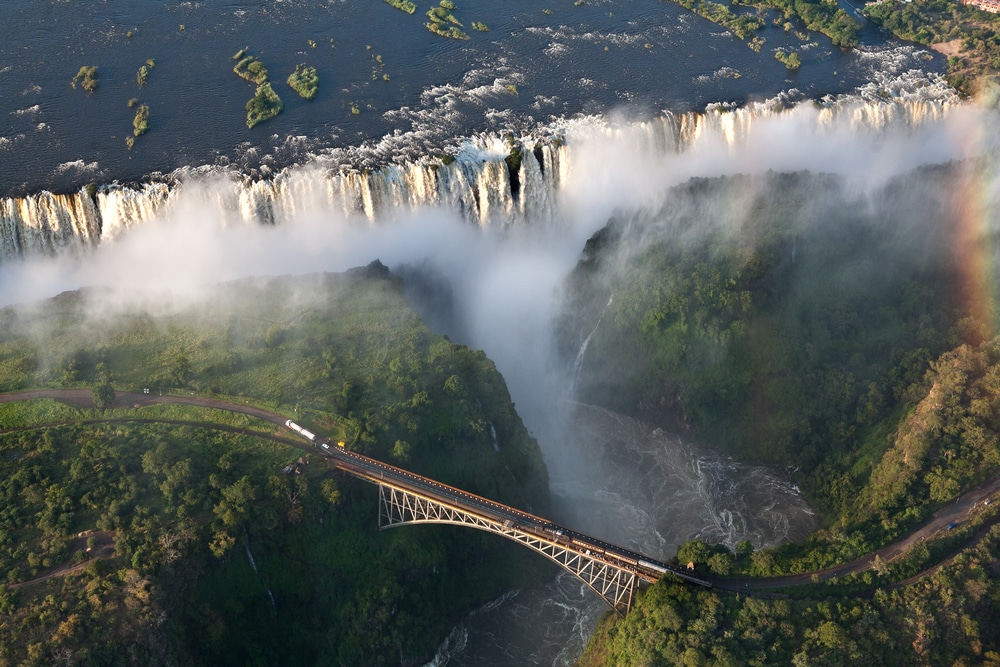 There are many brave men and women who travel to southern Africa, down to the Zambezi River where the waters flow 2,200 miles to the Indian Ocean. Some of them come to see the hippopotamuses, crocodiles, and the African fish eagles that make their home along the shores of this mighty river. There are others who come to the Zambezi seeking a glimpse of Nyaminyami – a legendary dragon-like creature with the body of a snake and the head of a fish. Still, others – those who are perhaps even braver – come to the Zambezi River to jump from the bridge at Victoria Falls with nothing separating them from the crashing waters below than their courage and a thick elastic cord. For adventure travelers and extreme sports enthusiasts – nothing is as thrilling as the bungee jump at Victoria Falls.
What Can We Do There?
For bungee jumpers and adventure seekers of all types, the bridge at Victoria Falls offers one of the highest bungee jumps in the world. If you're a thrill seeker or an adrenaline junkie, this is the reason you travel all the way to the Zambezi River. In addition, the landscape around Victoria Falls is a paradise in southern Africa. The people are welcoming and friendly. There are a number of National Parks – including Mosi-oa-Tunya National Park and the Zambezi National Park. Each features a diverse selection of wildlife. Bring your cameras to get pics of the giraffe, rhino, zebra, warthogs, elephant, sable, eland, buffalo, antelope, hippopotamuses, and crocodiles that live there. For the stout-hearted, there is also a "Walking with Lions" experience at the Mosi-oa-Tunya Park.
What's It Like?
The climate in the Zambia and Zimbabwe region is tropical. During the dry season (May through October) daytime temperatures top out at 68-degrees Fahrenheit and drop into the 40s at night. Summer in the Zambia and Zimbabwe region begins around October, when the temperatures can get into the 90-degree range. In the rainforests around the region, you'll find hundreds of floral species. Be sure to look for the Forest-Dwelling Orchid and the Flame Lily.
What Are the Logistics?
To outfit a bungee jumping adventure at Victoria Falls in southern Africa, you'll require the services of a professional adventure travel planning company. MTI Events in Kansas City can get you there. A trip to Zimbabwe requires travel arrangements from the U.S. to southern Africa – including airline tickets for all travelers, shipping considerations for the expedition gear, and vans or busses to get your crew from the airport to the final destination. If you're an avid bungee jumper or part of a team and wish to bring your own gear and other related equipment, your MTI Events adventure travel planner will ensure that your equipment is packed, transported, and prepared for any customs inspections along the way. And when you're back from jumping at the bridge, your MTI Events adventure travel planner will make sure that your accommodations are prepared, as well as food and drink for your whole party. A well-planned bungee jumping trip to Zimbabwe may also include arrangements for a separate vehicle that moves luggage and equipment from the hotel to the bridge and back again.
Zimbabwe and Victoria Falls Facts for Travelers
Location: The Victoria Falls Border Bridge in southern Africa, between the towns of Victoria Falls in Zimbabwe and Livingstone in Zambia
Climate: Tropical, with a rainy season from November to March
Language: English (official) but with numerous tribal languages and dialects
Population: 12.6 million
Currency: Zimbabwean dollars (ZWD)
Time Zone: UTC+2 (Central Africa Time)
U.S. Embassy: Embassy of the United States, Harare-Zimbabwe
How Do We Get There?
Let MTI Events Adventure Travel be your guide. At MTI Events, we can arrange all the details and logistics for a great bungee jumping adventure at Victoria Falls. Call MTI Events at 800-826-3464 and speak to an adventure travel services planner today. At MTI Events, we specialize in adventure. You bring the courage. We'll get you to the jump site and back again.