Travel Incentive Programs for Your Employees

Corporate travel incentive programs are great employee rewards and recognition programs that drive top-performing employees, fuel employee engagement, and create stronger business results. Going to Paris to see the Eiffel Tower, taking a bus tour in Barcelona and seeing sights like La Sagrada Familia, or maybe sitting on a beautiful beach in Bali; doesn't getting a break from work to visit a new place and try new things sound amazing?
Traveling is something that everyone loves. Visiting and exploring new places is thrilling and can be a rewarding experience. Many people have a dream of traveling more, but unfortunately, for many people, this is not easy as they have a location-dependent job. Vacations can also cost a significant amount of money, which not everyone can afford.
Did you know that you can help your employees have the chance to travel more? The answer is to establish a corporate travel incentives program. Take our word for it; having incentive travel experiences is a fantastic way to reward your well-performing employees.
When planned and executed correctly, incentive travel can be a budget-friendly and effective performance and motivational improvement strategy. Setting up a program like this doesn't have to be complicated and has excellent benefits.
Customized Employee Incentive Trips
At MTI Events, our focus is to organize memorable incentive trips and events for your employees. We bring three decades of experience in creating solutions that suit your budget and goals. Each of our programs is built from scratch, with your company's specific objectives in mind from start to finish.
We go beyond making itineraries and hotel arrangements. We create unique experiences tailored to your employees' interests and your company values.
A company incentive trip that pays for itself – this is what you'll get by working with us. Our planning approach is proactive and flexible. All you need to do is give us the details of what you want your employees to get out of the trip, and we'll work closely with your team to plan the trip they desire.

Setting Up A Travel Incentive Program
Although setting up a corporate travel incentive program will take some work, it is not that difficult and, in the end, is definitely worth the effort. If you are thinking about setting one up but have no idea where to begin, just give us a call today to get started. 
The first step to setting up a travel incentive program for employees is identifying the goals to work towards. Specific goals give a solid performance target to your team members.
The second step is to identify which team members will be eligible for the program. Are you planning on only sales incentive trips? How will the rest of your team feel about that? Adapting your program to motivate employees from a variety of roles provides an even better long-term return on investment.
Reach New Business Heights with Travel Incentives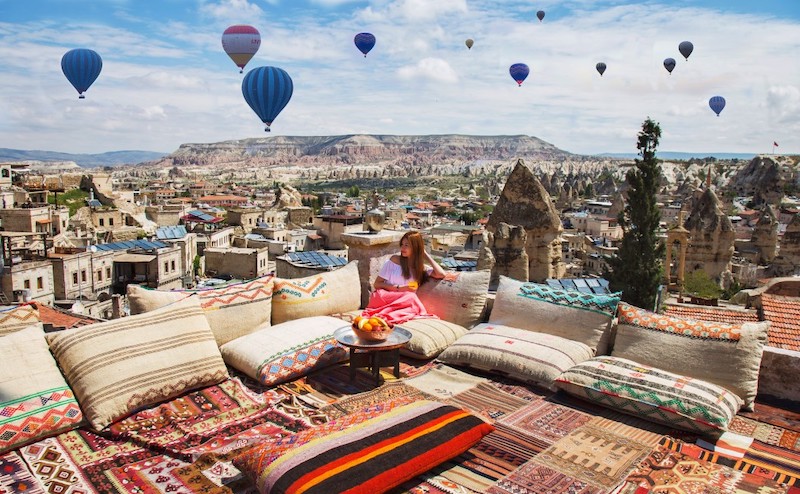 The allure of travel is universal. No matter what kind of business you're running, each and every one of your employees can likely be motivated by a new travel experience. Some would save up for a year to spend a week in an exotic destination.
Even an out-of-state trip over the weekend can be enough to recharge the mind and body. But for some of your employees, traveling is a luxury they can't afford.
By offering an incentive travel experience, with all the expenses and extras paid by your company, your employees will buckle down to earn the reward. They will be driven to become top performers. Your staff will return after the trip eager to work hard and remain loyal to your company. A happy workforce leads to better business outcomes, from increased productivity to more satisfied customers.
How We Can Help You
At MTI Events, we can help your company by setting up a single or group travel incentive program. If your company has already set up a corporate incentives program but wants help making sure that the program continues to run smoothly, then we also offer program management services. 
If you don't have a corporate travel incentives program set up for your company, what are you waiting for? Your rewarded employees could be sitting on a beach somewhere, eating food in Italy, or having another memorable experience that they earned through hard work.
With our help, it doesn't have to be challenging to set up and manage your program, and it is clear that there is a multitude of benefits associated with having this type of program in place. 
Contact us today if you want help with setting up your corporate incentives travel program. Your employees will thank you, and having happy employees can be very beneficial for you and your company.
MTI Events is Your Partner for Success
By partnering with us, you'll get an incentive travel company that will win you your employees' trust and commitment.
Having been in the industry for 30 years, we've established an extensive network in the travel and hospitality industry in multiple destinations around the world. This is why we're able to tailor a program that fits your vision.
We have worked with companies that have leveraged the power of incentive travel programs to drive competition in their markets with as few as thirty salespeople, as well as companies looking to maintain their market dominance by motivating hundreds of staffers in sales offices around the world.
MTI Events is the only company you need to work with to create a custom travel incentive program for your greatest assets. Send us an email or call us at 913-521-8946 to speak to a representative.