5 European Travel Destinations That Are Even Better During the Winter!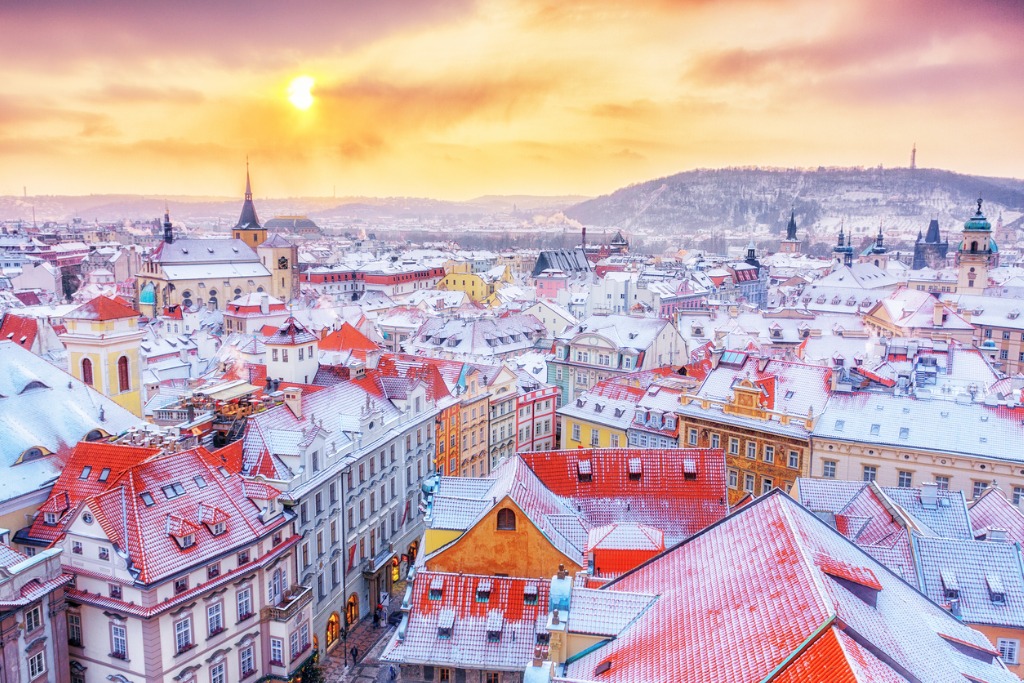 When you're planning a corporate incentive trip during the winter, you might naturally start brainstorming a series of tropical beaches and warm locales—and we love those too!—but don't overlook the opportunity to help your top performers cross a winter wonderland off their bucket lists.
We submit for your consideration a snow-dazzled European landscape, historical architecture, and drinks on tap, ranging from mulled wine to hot chocolate made with fine gourmet chocolate, handcrafted by master chocolatiers. Winter is inarguably one of the top four best seasons to visit Europe and if you're looking for the top five best European cities to visit during winter, keep reading because you're in luck!
Prague, Czech Republic
One of Europe's most grand cities and home to the best Christmas markets outside of Germany, the Czech capital is better seen in winter if you want to avoid the crowds. From families on summer vacation to tourists snapping photos of the iconic buildings to influencers trying to build their social media following, you'll see none of them if you visit during the colder months!
Visiting during the winter holidays means a chance to experience the Christmas markets. Your team can enjoy the traditional fried dough treat known as trdelnik and the traditional mulled wine known as mulled wine. You can also find some souvenirs for the office sold in the festive market stalls. If your incentive trip is happening after the holidays, no worries! Prague is a city of culture—and beer—and has a festive party atmosphere no matter the season.
Hallstatt, Austria
In winter, this gorgeous little alpine town looks like a vision straight out of a magical snow globe: a collection of quaint alpine houses overlooking a lake as they stack up in rows and columns built up and up and up into the mountains. Those mountains are the Alps, and they rise into the sky above the town, gently tucked into fog that gives the impression of being so high up you're strolling through a village that's this close to the clouds.
It's the ideal place to take a long walk while appreciating the majesty of nature embodied by the lake and the Alps, as well as the quieter, more delicate majesty of the traditional wooden houses wound through with small alleyways. If your team is interested in a more challenging path, they can hike up to the Hallstatt Skywalk high above town to see an even better view—and take their new favorite selfie!
Budapest, Hungary
While you might initially think of Budapest as a summer destination, especially because of the popularity of their thermal baths, a visit to the city in winter will reveal it's quite well-suited to the short, chilly days of winter—especially because of their thermal baths!
Stay warm below the water's surface as flurries of snow swirl about in the cold winds. Alternatively, time can be spent staying warm in one of the glorious old cafés sipping on a hot drink and enjoying the slow pleasure of a freshly crafted pastry in traditional local flavors, like walnut, apricot, and chocolate.
Most of the obligatory sights and activities are still available during winter as well. Visit St. Stephen's Basilica to see the mummified hand of Stephen I, Hungary's first king. Go bar hopping at the ruin bars: old buildings and unused spaces that have been decorated in an eclectic style and transformed into pubs. Get tickets to the ballet or opera and visit the stunning Opera House.
Barcelona, Spain
If your team is effortlessly cool, cultured, and obsessed with finding a brunch spot that will put all other brunch spots to shame, Barcelona is the exact right destination for your corporate incentive trip!
Visiting in winter has the benefit of avoiding the crowds of tourists that visit in the warmer months. Although, Barcelona is warmer than the other destinations on this list, meaning spending time outside on the chilliest of days is still a downright pleasant temperature.
Circling back to that brunch boast, Barcelona really does have something for everyone. Classic comfort food, traditional local dishes, gastronomic innovations that will impress the most experienced foodies, and fusion offerings, like breakfast tapas. You could easily brunch every day and never run out of new things to try.
Abisko, Sweden
Hobbyist sky watchers on your team will be enraptured to watch the northern lights dance across the sky in the perfectly situated Lapland village of Abisko. Located north of the Arctic Circle, the frigid winter cold is worth enduring to witness the awe-inspiring yet ephemeral dynamism of the Aurora Borealis.
The two factors that make Abisko the ideal place to see this fascinating natural phenomenon are its proximity to the north pole and the long winter nights. This combination makes for the best conditions to experience the original laser light show!
All you need to do is find somewhere away from light pollution (there isn't much in this village, but less light pollution allows for better views) and cloudy weather. One of the best locations in Abisko for viewing the Aurora Borealis is the Abisko Aurora Sky Station, which, as you can imagine, was built for that exact purpose. Just look up!
Alternatively, you can book a guided Northern Lights tour where a professional will lead your team to the best spots to see the magic happening in the elements and the wild.
MTI Events Can Plan Your Winter Corporate Retreat
Whether you're looking for an individual incentive, a team incentive, or both, MTI Events can help you coordinate a corporate winter retreat in Europe that includes one or more of these amazing destinations—or anywhere else you want to send your top performers!
The best part is that you don't have to set aside time to build, establish, and manage the logistics of these programs—we'll take care of all of that for you, leaving you free to manage your people and your business. Take the time to visit our website and schedule your incentivized vacation today!