7 Unique Places to Visit in Mexico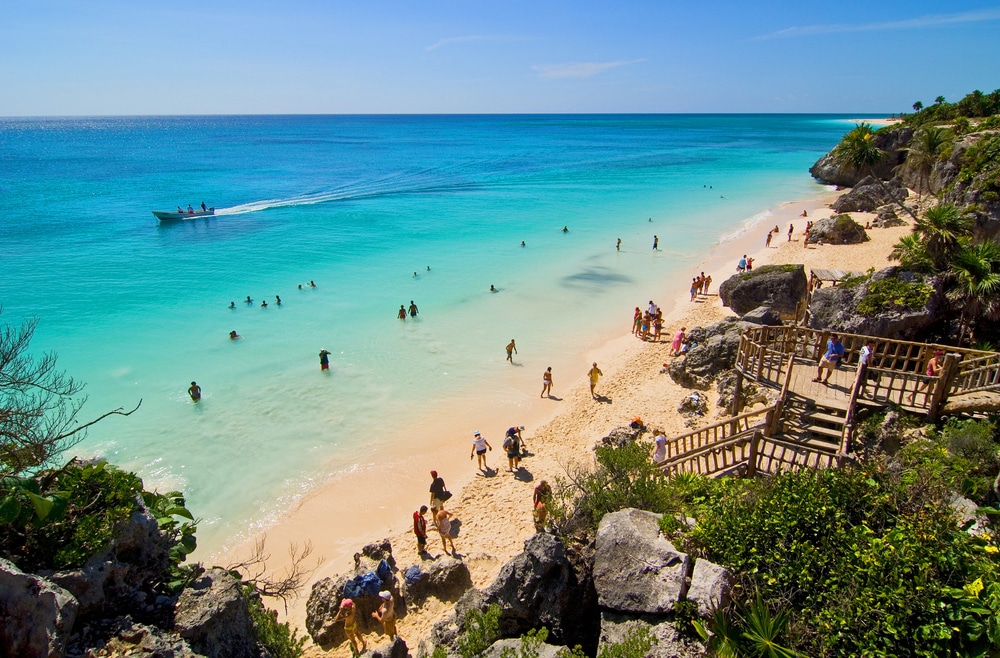 If Mexico is known for one thing, it's their gorgeous beaches—and the amazing food! 
Let's try this again: If there are two things Mexico is known for, it's their beautiful, white sand beaches and amazing food—and their incredibly friendly local population. They also have outstanding all-inclusive resorts, and local products you won't find anywhere else. 
Okay, so we've located some of the best hidden gems in Mexico. And beyond those five things, we'd also like to draw your attention to these seven unique places to visit in Mexico, plus a geographical formation that's stunning, unique to the region, and relatively uncommon in the US!
Natural Wonders
Mexico is one of the most beloved places in the world to visit, with a spectacularly diverse landscape that includes beaches, waterfalls, jungles, caverns, and cenotes. These wonderful travel destinations stories and photos that friends and family back home will envy, and the opportunity for your employees to bond as a team on the trip of a lifetime!
Hierve El Agua
If you're looking for an especially photogenic destination for a day trip, you could do worse than this popular destination on top of a mountain. The colorful mineral formations, including a petrified waterfall, are complemented by the surrounding landscape. If you're feeling brave, check out the cliffside infinity pools where you can swim to the edge of the mountain and look out over the rest of the mountain range and the valley below.
Grutas de Tolantongo
Hot springs? In Mexico? Yes! Although it's a warm climate perfectly suited for traveling to when you need a break from the doldrums of wintertime or a summer vacation you'll never forget, the hot springs of Grutas de Tolantongo is a sight you won't want to miss out on! North of Mexico City, this hot springs resort has natural hot pools among the verdant foliage, a vibrant turquoise river that runs through the property, and mysterious caves waiting to be explored.
Los Prismas Basálticos
The Basaltic Prisms of Santa María Regla are a series of basalt rock formations that resulted from the slow cooling of magma. These basalt rock stacks and pillars create a wonderous, unfamiliar landscape like something from another planet.
Anyone with an interest in rock formations will generally associate the most impressive of them with the deserts but the Basaltic Prisms are notable for their proximity to water: there's actually a stream flowing through it all that ends in a waterfall, giving the impression that the water tore through the different layers of the rocks and cast them aside, cutting dozens of winding paths through the earth. 
Take Note of Cenotes
Rather than a specific location, this is a type of geology to keep in mind when planning your trip to Mexico. A cenote is the result of limestone bedrock collapsing to create a pit that exposes the groundwater below—it's like a sinkhole, except you'll want to seek these out!
Some are out in the open, some are inside caves, and some are even underwater (you'll need scuba gear to see them!). In the past, they were often used as a source of freshwater for the surrounding villages, now they're commonly used for swimming.
Pueblos Mágicos
Usually translated as "magic towns," "magical towns," or "magical villages," these are locations with great cultural and historical significance. Magical towns are home to unique symbolism and legends that enhance the national identity.
Bacalar
A dream destination for the adventurous, the pueblo mágico Bacalar is the entry point to a surrounding lagoon and is home to an old pirate-fighting citadel called Fuerte de San Felipe. 
The citadel is surrounded by the Lagoon of Seven Colors, named for the different shades of blue and green in the water owing to its varying depths. For a better view, take a boat or kayak out into the lagoon where you'll find cenotes, swimming spots, and secluded bars between the mangroves.
Las Pozas
of
Edward James
The eccentric 19th century English art critic, Edward James, created a bizarre landscape garden filled with surrealist structures covering 80 acres of the high mountain forest of La Huasteca. After James passed and the garden was no longer receiving regular upkeep, nature began reclaiming the area.
Now it's a collection of cobblestone paths, soaring concrete lookout platforms, treehouses, and other avant garde structures jutting out of overgrown vines and mosses in the middle of the forest. (We think James would have approved.)
Tequila
The perfect destination for connoisseurs of blanco and reposado alike, Tequila is the name of the Mexican town that originally created the drink. Near Guadalajara and accessible by train tours, the town of Tequila is surrounded by fields of blue agave and has a colonial center that's more than worth the trip. Available activities include horse riding and educational tours that focus on the cultivation of agave bushes and how they're transformed into liquor.
La Isla
de la
Munecas
If your top performers have an affinity for the creepy, make sure to include a visit to the Island of the Dolls on your Mexico incentive trip! Located in the canals south of Mexico City, the trees of this melancholy little island are filled with upcycled dolls and doll parts harvested from the canals.
The dolls were placed in the trees by the only inhabitant of the island, Don Julian Santana, in memory of a child who died in the canals. Santana found the first doll near where he'd previously found the child, so he placed the doll in a tree and then continued the gesture with every other doll he found. Over the years, it added up.
MTI Events Can Plan Your Best Corporate Retreat
Whether you're looking for an individual incentive, a team incentive, or both, MTI Events can brainstorm with you to coordinate a corporate retreat in Mexico that includes one or more of these unique locations, or anywhere else you want to send your top performers!
The best part is that you don't have to set aside time to build, establish, and manage the logistics of these programs—we'll take care of all of that for you, leaving you free to manage your people and your business. So take the time to visit our website and schedule your incentivized vacation today!