10 Outdoor Team-Building Activities: Take Advantage of Great Weather!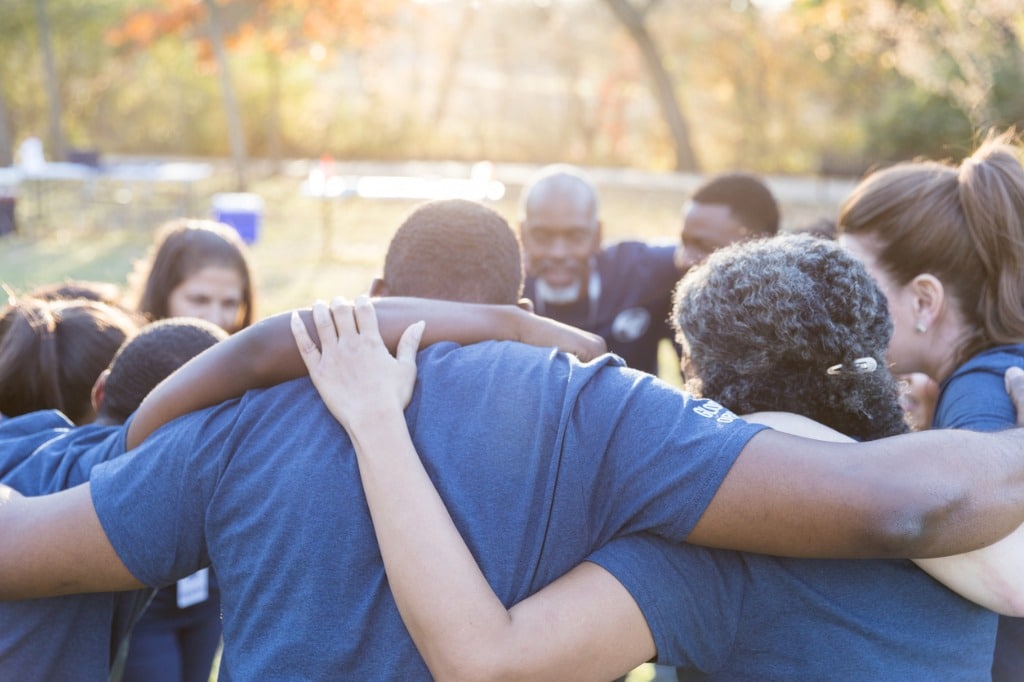 Team-building improves communication and collaboration between employees. When you choose the right events, it can be motivating for everyone who participates. Summer weather allows you to move some great team-building activities outside. If you're planning a team bonding event, remember that events need to be inclusive. Here are some of our best ideas for fun team-building events perfect for summer.
1. Scavenger Hunt
Send small groups out into the community to find landmarks or do things that bring them together. Have them go to a local restaurant and share the signature item. Hit the library and read a passage from a favorite book. Go to a dance studio and record two or more members dancing. Pick up items from a grocery store and drop them off at a local charity. The goal is to get them talking and cooperating on projects outside the office.
2. Birdwatching by a River or at a Local Reserve
Get out of the urban jungle and take the team to the great outdoors, where you can listen and watch for birds and other creatures. Animals are busier in the morning, so this can be a great way to start the day. Enjoy breakfast al fresco as part of the fun. Don't think your team will enjoy quietly watching birds? Take them fishing at a local lake. Instead of taking fish home, take pictures and throw them back.
3. Bike Ride
Taking a bike ride around town is a great way to get outside and have fun. You may need to look for alternatives for adults who can't or don't know how to ride a bike. Riding recumbents, tandems, or three-wheelers instead may be an excellent way to mix it up, or you may also want to look into Segways! If the fresh air isn't enough, you can stop at random locations and take pictures or do trivia games. End the ride at a local favorite, such as a pub or special ice cream place.
4. Host a Picnic
A lowkey outdoor activity for the summertime is a picnic. Make it a potluck, hire a food truck, or have it catered by a local BBQ restaurant. Choose a scenic place where you can play frisbee or other games. Remember to bring your speakers to play music – create a playlist with a variety of songs that everyone will enjoy. To be more inclusive, remember to plan food for those with dietary restrictions.
5. Host a Garden Party
Take the team to a greenhouse with supplies to make fairy gardens, terrariums, or container gardens. You can also bring the fun of the garden to your site. Bring in supplies to let everyone create a unique garden to take home or for the office. Get outside and play croquet or horseshoes. Play music that focuses on nature. Find a caterer who makes food and drinks using local produce and flowers.
6. Host an Outdoor Movie
Set up a projector and show a movie on a white wall or screen in the park or someone's backyard. Set up a concession stand with movie snacks, popcorn, candy, soda, and nachos. Choose a movie that was popular when the company was born or during a historic moment. Have everyone bring lawn chairs or blankets to be comfortable during the movie. When it's over, ask trivia questions and give out prizes.
7. Volunteer For a Local Charity
There are plenty of local non-profits that could use your help. Take small teams to an organized event or plan your own. You could head to a local park or beach and pick up trash. Or, plant trees in a park. Just check with the local city offices to ensure they're wanted and needed. 
Buy some terracotta flower pots to paint and fill with flowers. Take them to a local nursing home and spend some time talking to the residents. Host a charity walk or run to give back to the community. Go to the local animal shelter and walk dogs. Whatever you decide, it'll feel great to be making a difference.
8. Visit Local Attractions
Go to the zoo together. Play paintball if you want something more fast-paced. Go to an archery range. Take everyone to the golf course or the mini-golf course. Start up some friendly competition! Go kayaking or canoeing. Make plans to go to a waterpark or local pool. It can be a blast if you're close to a white-water rafting location.
Host a bunch of summer sports, like badminton, frisbee, basketball, or flying kites. Go to a U-Pick farm and get some fresh berries or fruit. You may have to find some options that fit your team while making sure you're inclusive. Just getting everyone out of the office doing some fun group activity can be a great way to build trust within your team.
9. Animal Therapy
Take your team to a local farm to interact with the animals. Ask a traveling farm to come to your parking lot. Talk to local animal rescue organizations about bringing in animals that need human interaction. Everyone loves furry creatures when you only have to pet and play with them. It's a boost to everyone's morale, and the animals get some extra love too.
10. Stargazing
If you have a bunch of night owls, have your team make cardboard telescopes together. Look up star charts for your area. Find a location without much visual noise where you can watch the sky. See how many constellations each team can find. You might even want to plan this activity to line up with other events in the sky. If you get rained out, have a backup plan for the planetarium.
Summer is the prime season to get outside and take advantage of the weather. Giving your team time to bond outside the office will benefit your business in ways you may never imagine. 
Corporate Travel Incentives to Motivate Employees
MTI Events can help you plan your corporate event to make it legendary while taking the pressure off your team. With our travel incentive program, you can reward top earners by sending them to new locations to recharge their minds and bodies. This travel program motivates employees and gives them ways to take on the world. They'll return to work ready to work even harder for the next trip. Contact us to learn more.